Custom Cocktail Shakers
Looking for a unique way to serve your cocktails? Check out our list of custom cocktail shakers! We have a wide selection of styles and designs to choose from, so you're sure to find the perfect one for your next party or event.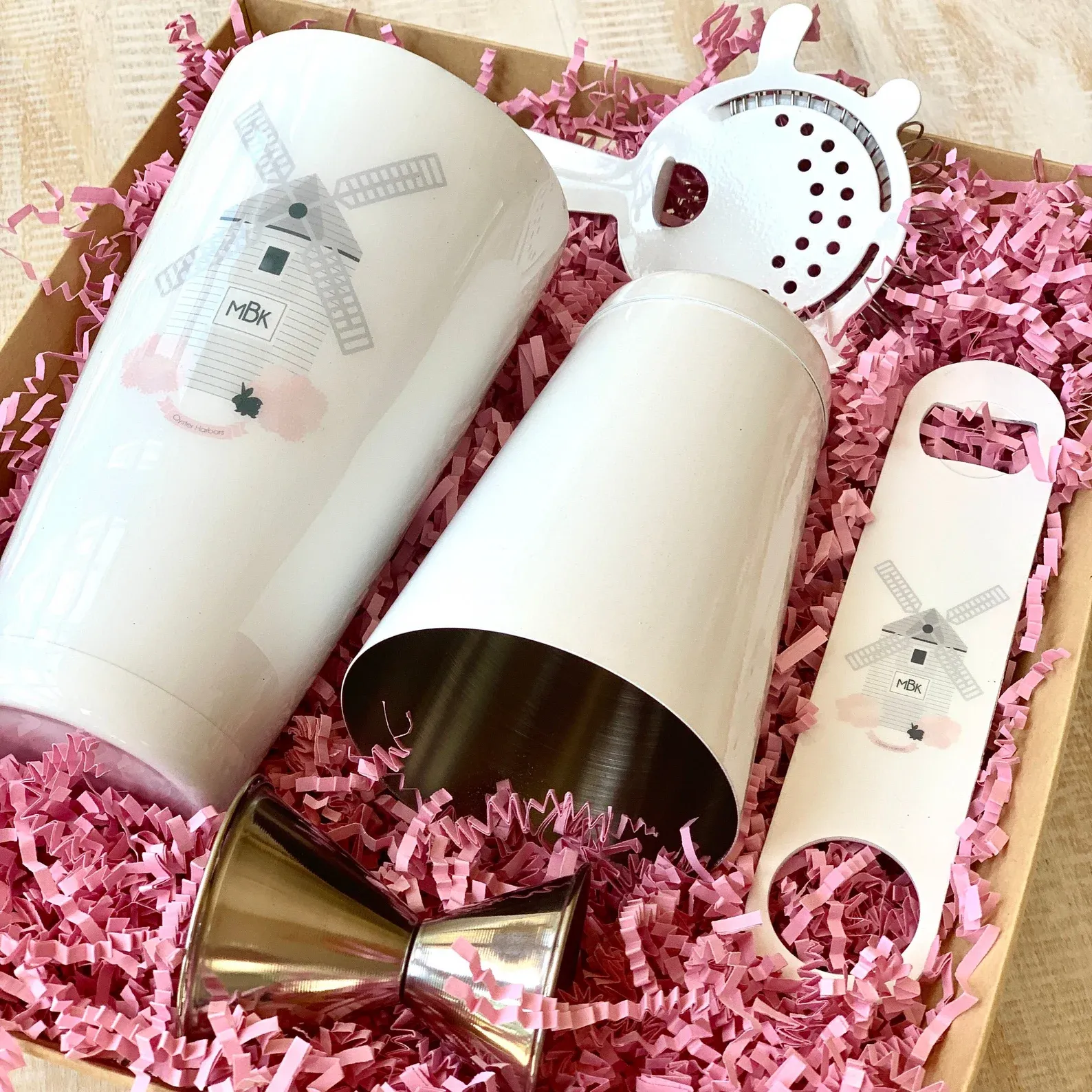 This custom logo cocktail shaker set is the perfect branding opportunity for your company, wedding or event!The shaker will be made according to the desired color scheme, and the full color logo will be added. Unless otherwise discussed, the logo will be on the main shaker and bottle opener. The entire main shaker will have 1-2 resin layers for a long lasting and beautiful finish. The custom color(s) of your choice, including ombres, will be available.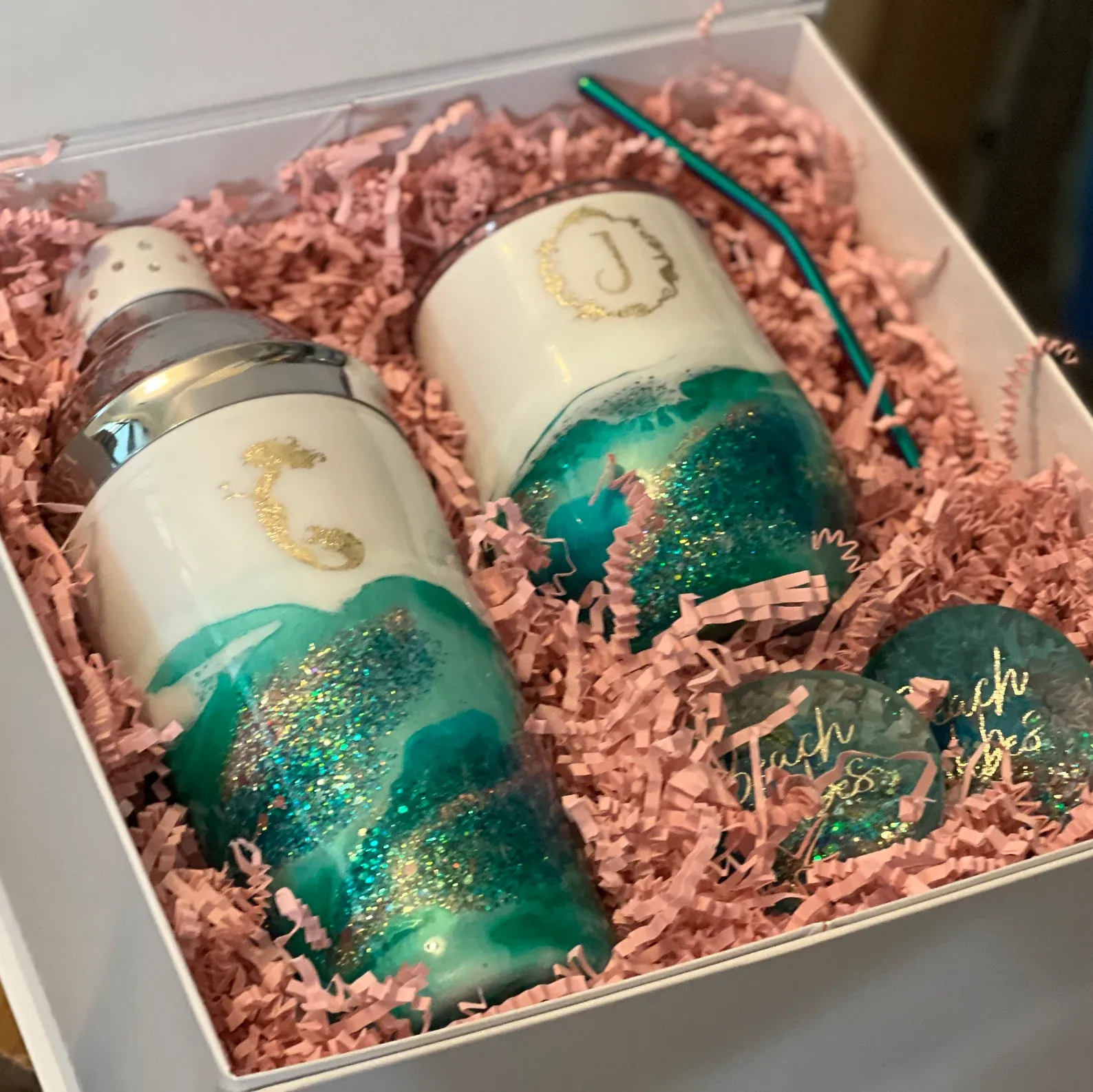 This beautiful cocktail shaker, beach wine tumbler and car coaster gift box is the perfect gift for your cocktail loving friends! It is also a unique wedding beach gift or a housewarming gift.
The cocktail shaker & cap is first powder coated with a gorgeous Pearl white for a durable finish, then layered with 2-3 layers of resin for a beautiful and dimensional finish.
The two car coasters measure 2.5" across, with beach colors and gold textured vinyl on each coaster, and sealed with high quality, durable resin.
Each gift box includes one large 700 ml cocktail shaker, wine tumbler, stainless steel straw, 2 car coasters, jigger, and beautiful magnetic white gift box with lid. This set comes completely ready for gift giving!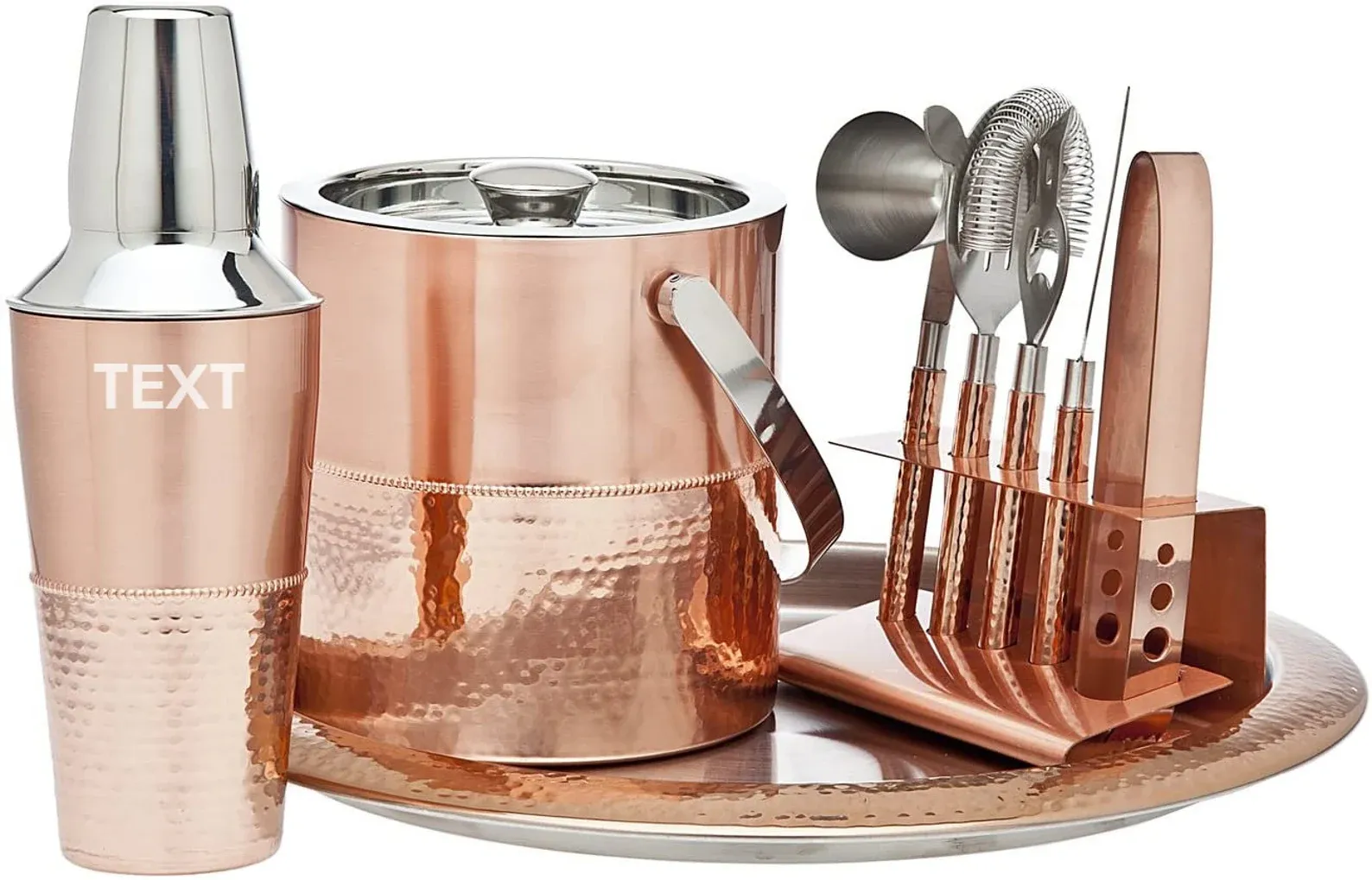 This 9-piece copper set is gorgeous and includes 1 Cocktail Shaker, 1 Ice Bucket, 1 Ice Tongs, 1 Tray, 1 Jigger, 1 Bottle Opener, 1 Strainer, 1 Fruit Knife, and 1 Tool Rack.
You can add your personalization to the shaker to make it truly impressive for cocktail hour.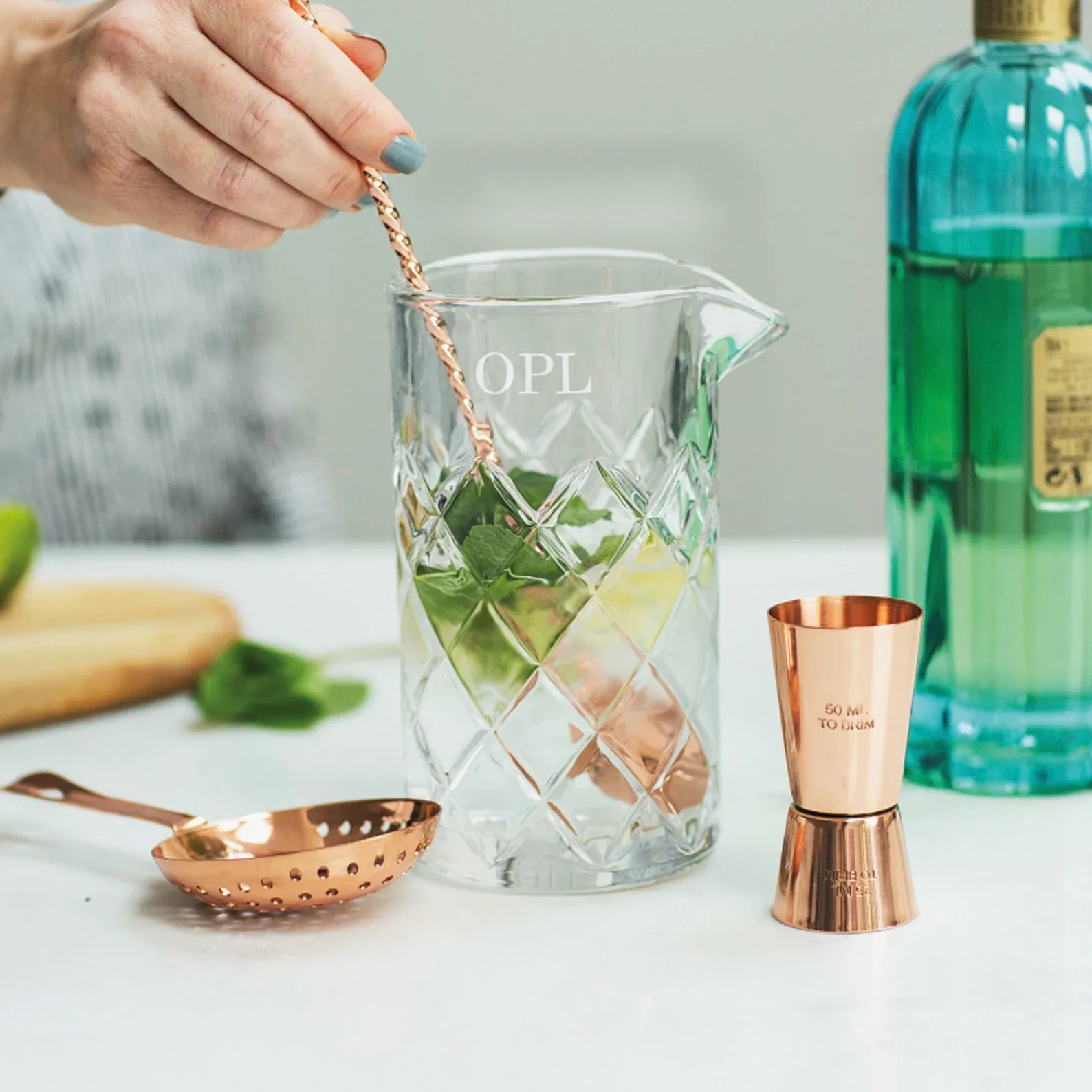 A personalized cocktail making set is great because it allows you to make cocktails that are tailored to your specific taste. You can choose the type of alcohol, the mixers, and the garnishes that you want, and you can make them as strong or as weak as you like. This way, you can always have a perfect cocktail to suit your mood.
This personalised cocktail making kit is the perfect gift for any cocktail connoisseurs out there.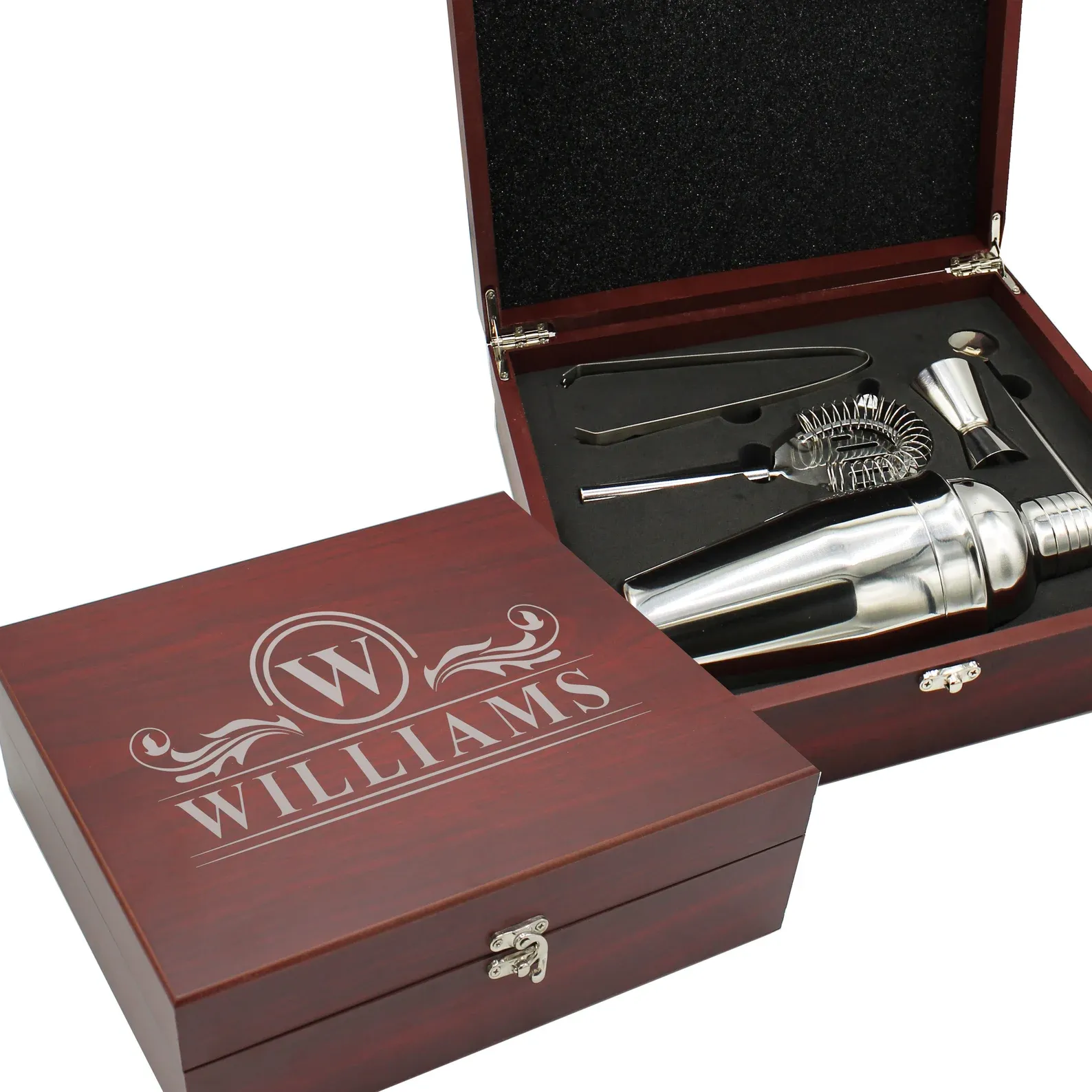 This classy rosewood finish boxed martini shaker set is an ideal gift for the classy cocktail connoisseur! This 5 piece cocktail shaker set is presented in a stunning box, complete with custom personalized engraving of your choice! Housewarming Gift, Wedding Gift, New Home Gift, Groomsman Gift - the possibilities are endless!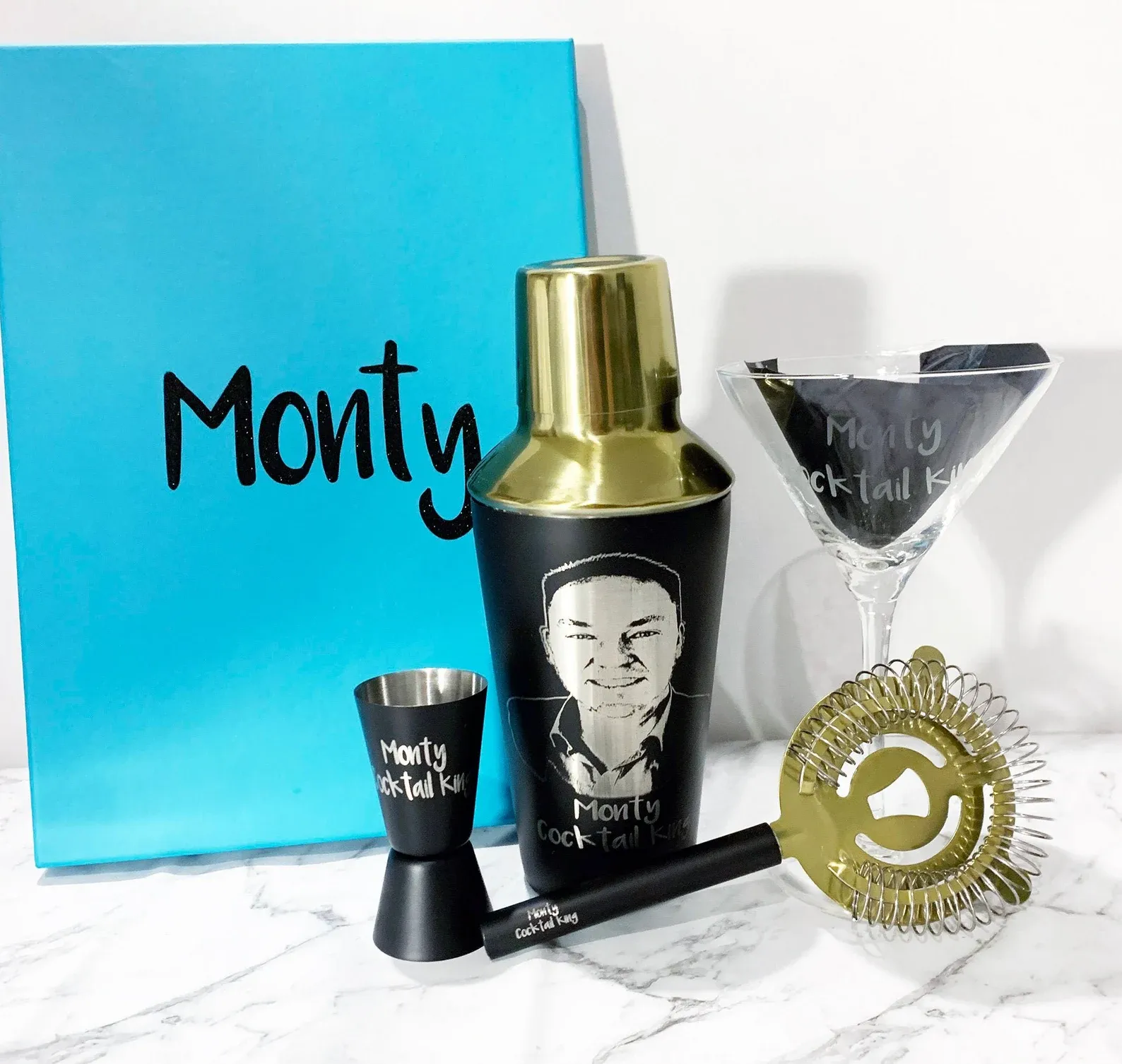 The customer can engrave a photo on the cocktail set with the name or words they want on there. They can choose the font they prefer in the photo gallery and also choose if they want the kit in a gift box.
The capacity of the cocktail glass is 178ml and the shaker is 500ml.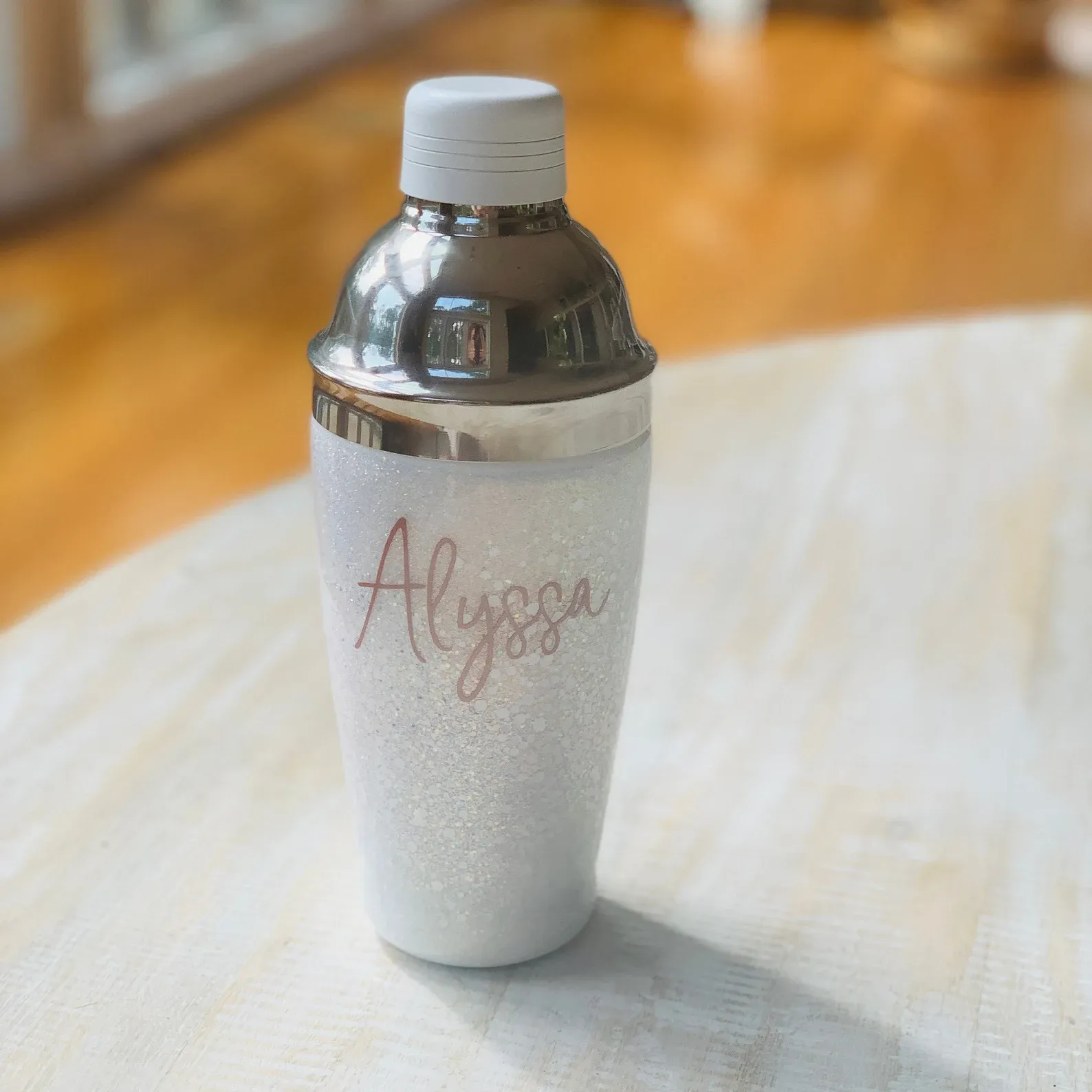 This listing is for a custom three-piece stainless steel Cobbler cocktail shaker.
The cocktail shaker is first powder coated with your choice of color(s) for a strong, lasting finish. The artist then hand applies your desired resin embellishments, and finish with 2-3 additional layers of resin for maximum shine and durability . (The resin and artwork will not reach the top of the shaker, to preserve functionality)
The set includes a stainless steel 700 ml tin base, lid with a built in strainer, and metal cap. The size is large enough to make 2-4 cocktails at once, but is very easy to handle. The artist is also a full-time bartender, and has several of these shakers for their own use! This style of cocktail shaker is perfect to add a beautiful touch to a home bar, or a gift to a beach loving bartender. The artist also offers this style of shaker in a two piece, or "tin on tin" style, which is a great option for frequent or high volume use!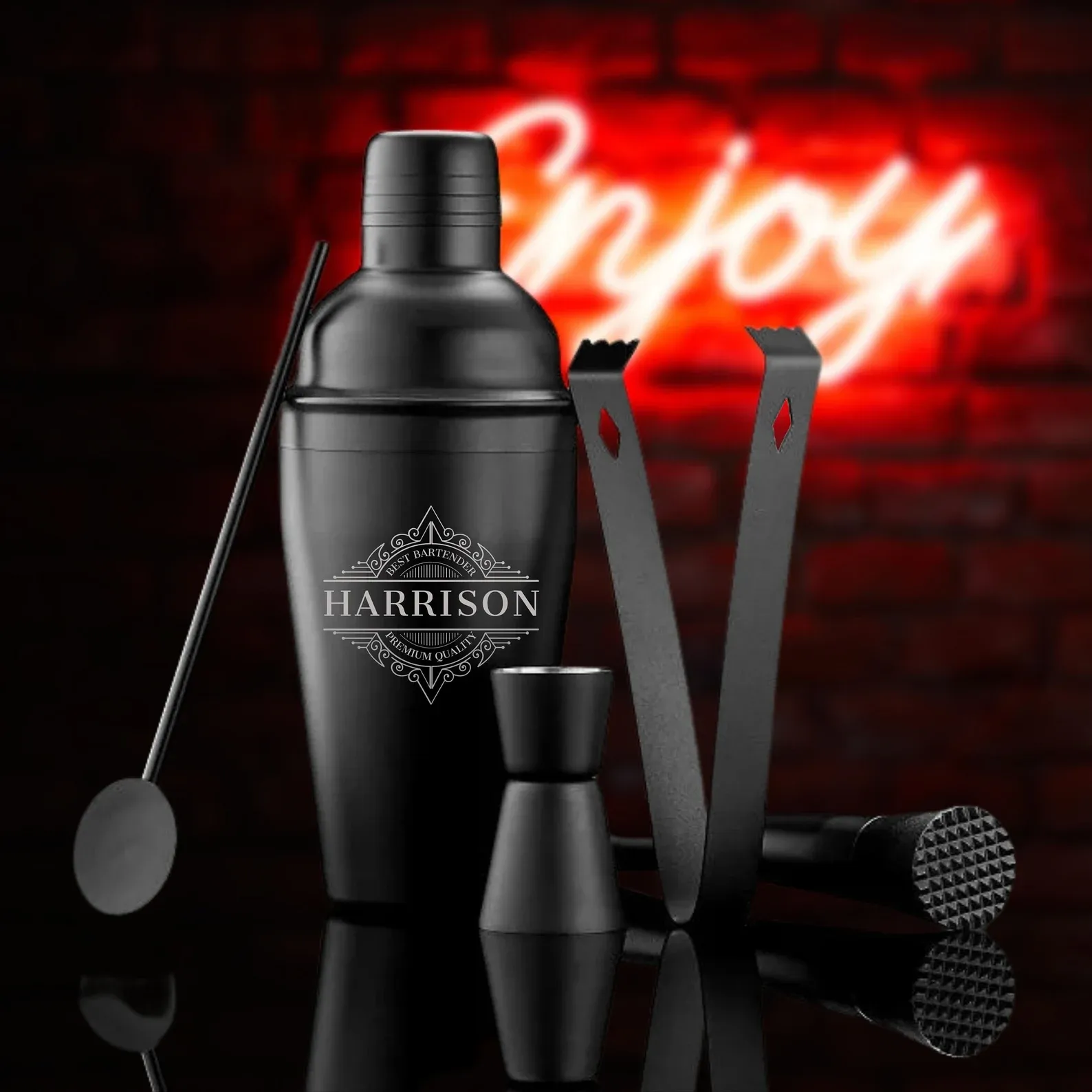 This stunning set of bar tools is everything you need to make basic cocktail mixes. This bar tool set is also a great gift for any mixologists, bartender or cocktail enthusiasts. This barware set features a clean, modern design, providing incomparable flavour satisfaction for all beverages.
It can be personalised with initials, name or custom logo to complete the look of this Cocktail Shaker.
Looking for something unique? There is an extensive selection of bespoke design to choose from.
It makes great unique perfect gifts for a birthday, wedding, house warming gift and pretty much anything special moment you can think of.
It is aesthetic and practical that's worth a toast! Choose to share a drink at every special occasion.
Personalise your own Cocktail Shaker set with other 4 bar tools to be given for your clients as closing gifts or your company promotion purposes with your clients names or monograms or your logo laser engraved. Our barware can be corporate gift for your wedding, business partners or clients also!