Copper Cocktail Sets - The Best Selection
This list of cocktail sets includes all the necessary tools to make perfect cocktails at home. Each set includes a shaker, jigger, strainer, and stirrer, as well as all the necessary glasses. With this list, you'll be able to find the perfect set for your home bar.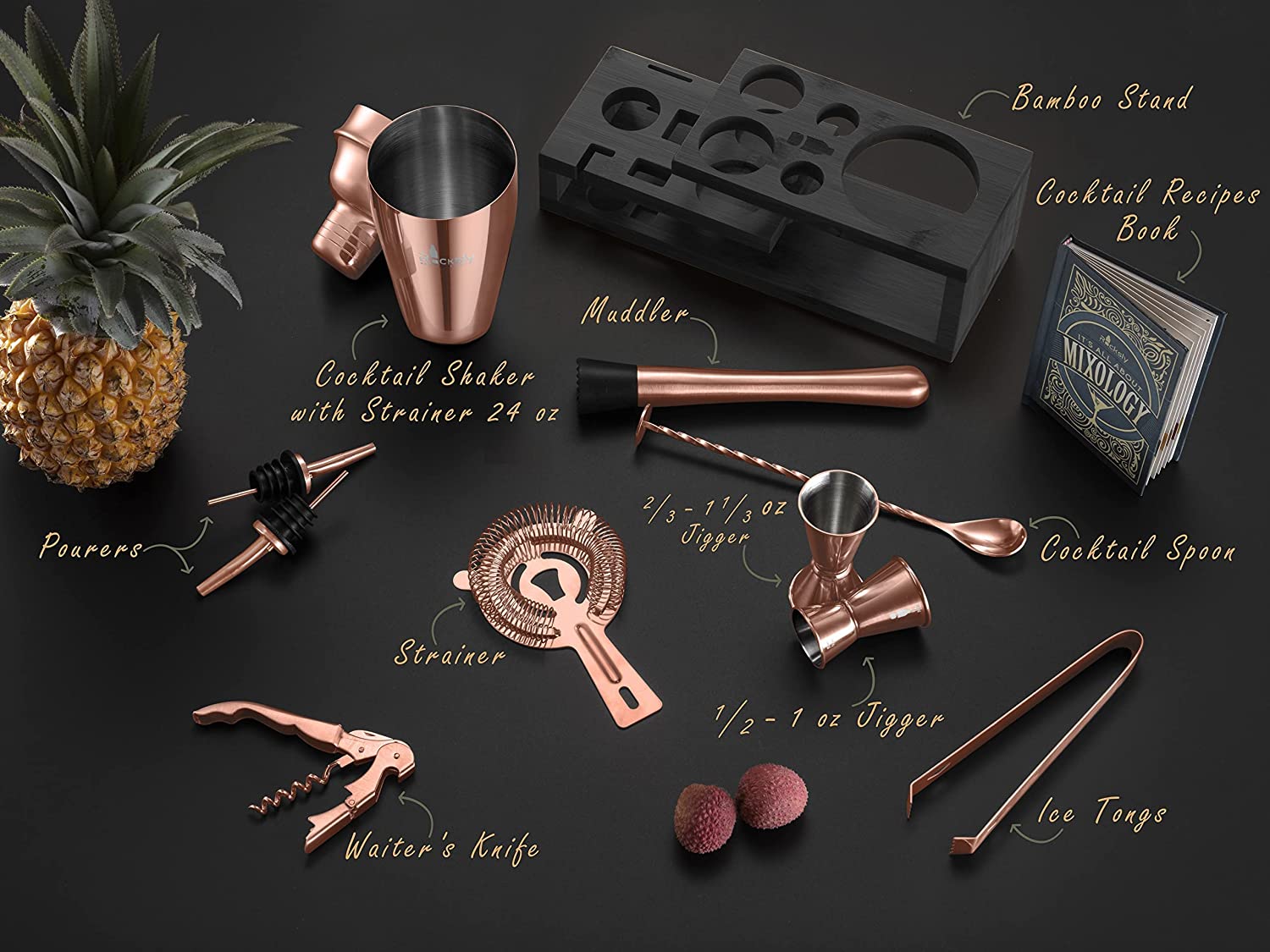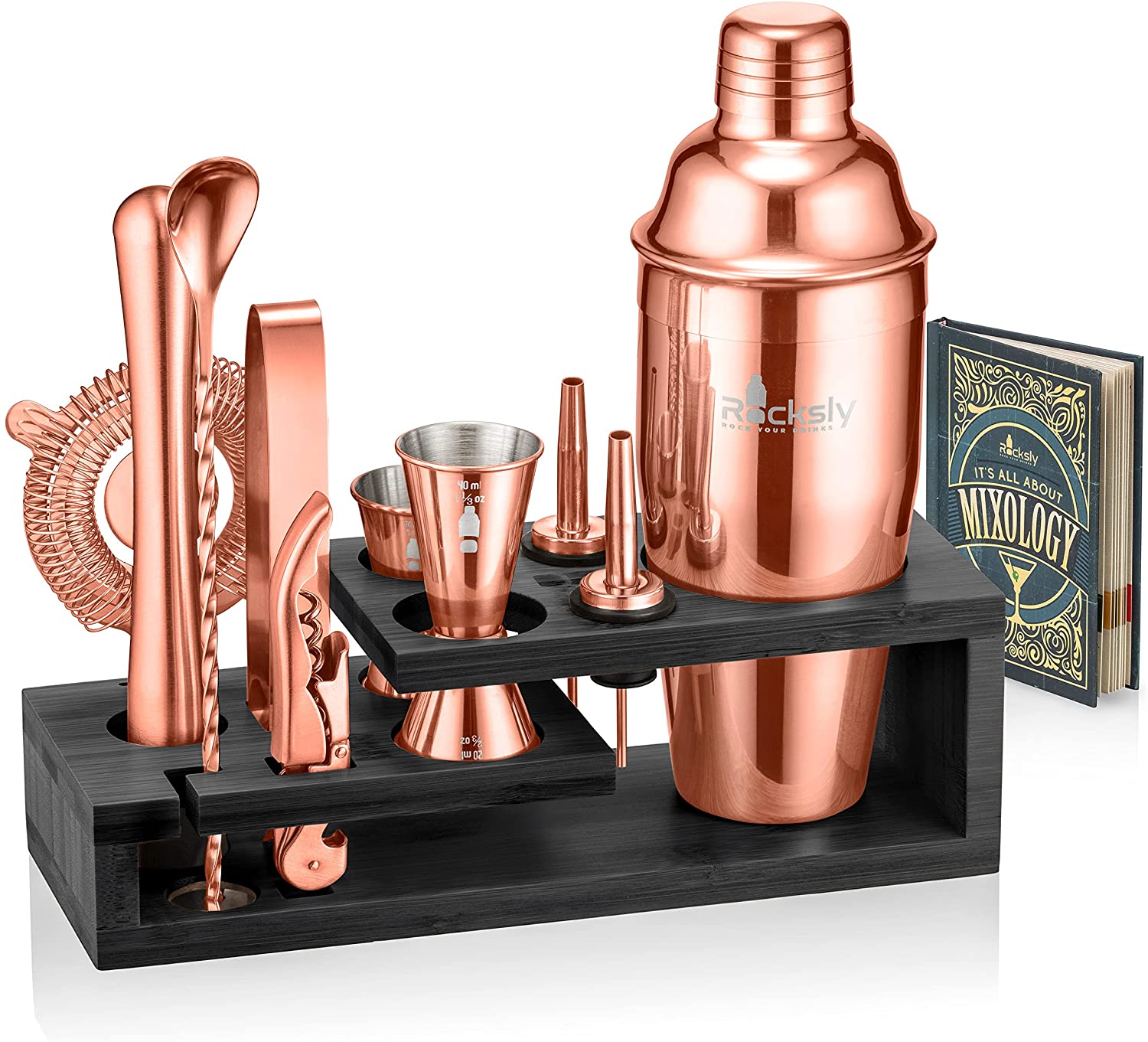 This asymmetrical, overlapping bamboo bar tool stand not only organizes your tools, but also presents them in an easy-to-admire setting. Wow your guests with your assortment of elegant stainless steel bar tools.
The perfect present for your favorite home bartender! This bar tool assortment is everything they need to get started - and get talented. Don't overspend on unnecessary, showy bar tools that just get in the way. Gift the bartender set that every amateur mixologist needs.
Become the bartender you've always wanted to be! With this 10-piece cocktail set you'll have all the tools you need to succeed: cobbler shaker, strainer, 15/30 ml and 20/40 ml double jigger, bar spoon, ice tongs, bottle opener, muddler, and 2 pourers. The three-piece cobbler shaker with built-in strainer is easy to use, and the collection of bar tools is specially curated to enable you to perfect your mixology craft.
No more bar tool junk drawer, no more scratched bar tools! This one-of-a-kind overlapping wooden bar stand organizes your bar supplies, keeping them clean, separate, and scratch-free. Never lose another tool! You'll always know exactly where to reach for your home bar tools, even when you're the middle of mixing up a pro cocktail.
Real mixologists don't use flimsy tools! Shake, mix, and pour with impressively durable cocktail tools. These bartender tools are built from SS304 silver stainless steel alloy. They're dishwasher-safe, heavily rust-resistant, and designed to last your entire amateur bar career.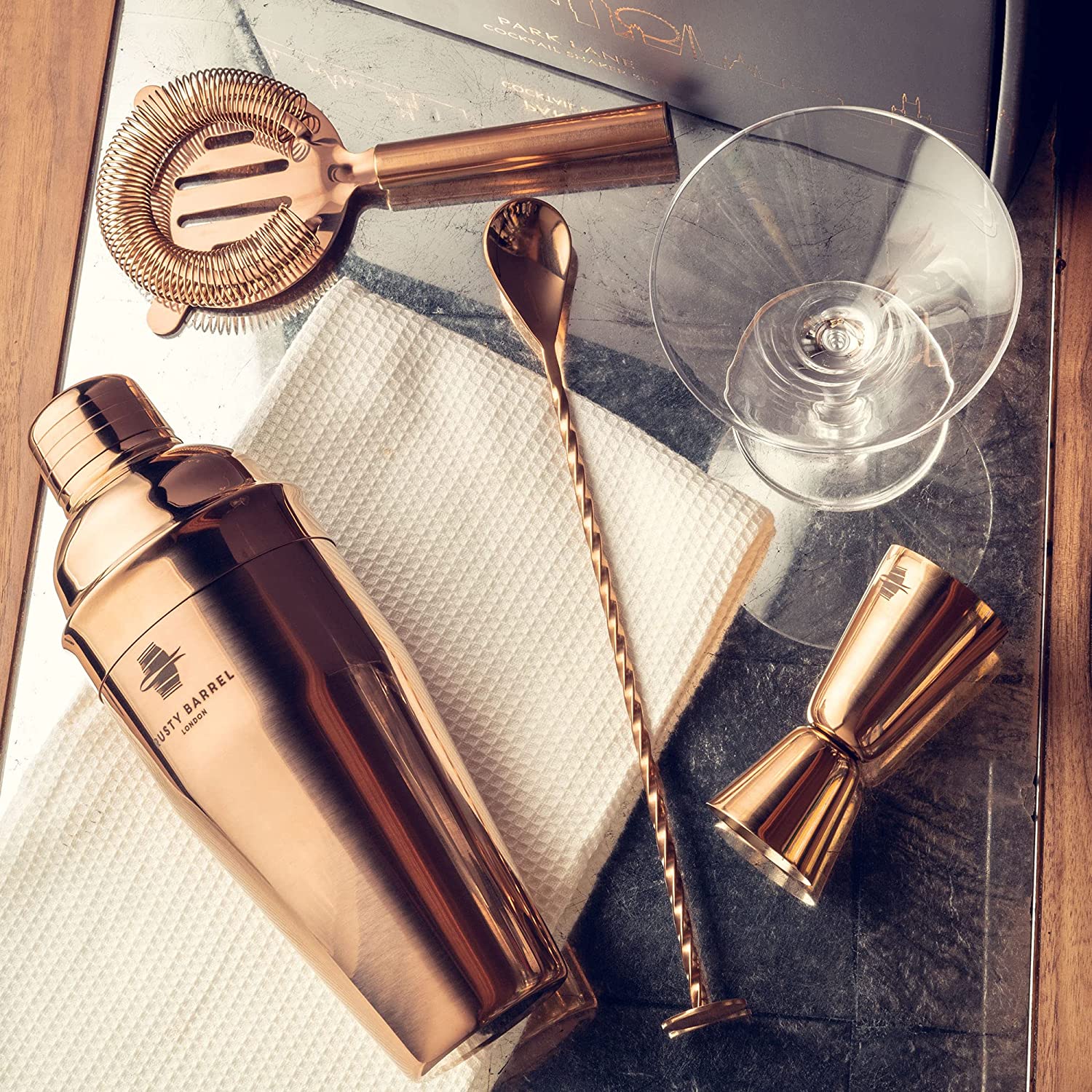 This stylish cocktail set is perfect for anyone who loves to entertain. The set includes a large 700ml Manhattan style cocktail shaker, wooden muddler, 25ml & 50ml double bar measure, speed pourer, twisted mixing spoon, pouch, Hawthorne strainer and '12 Classic Cocktails' recipe booklet (English). This set has everything you need to get the party started!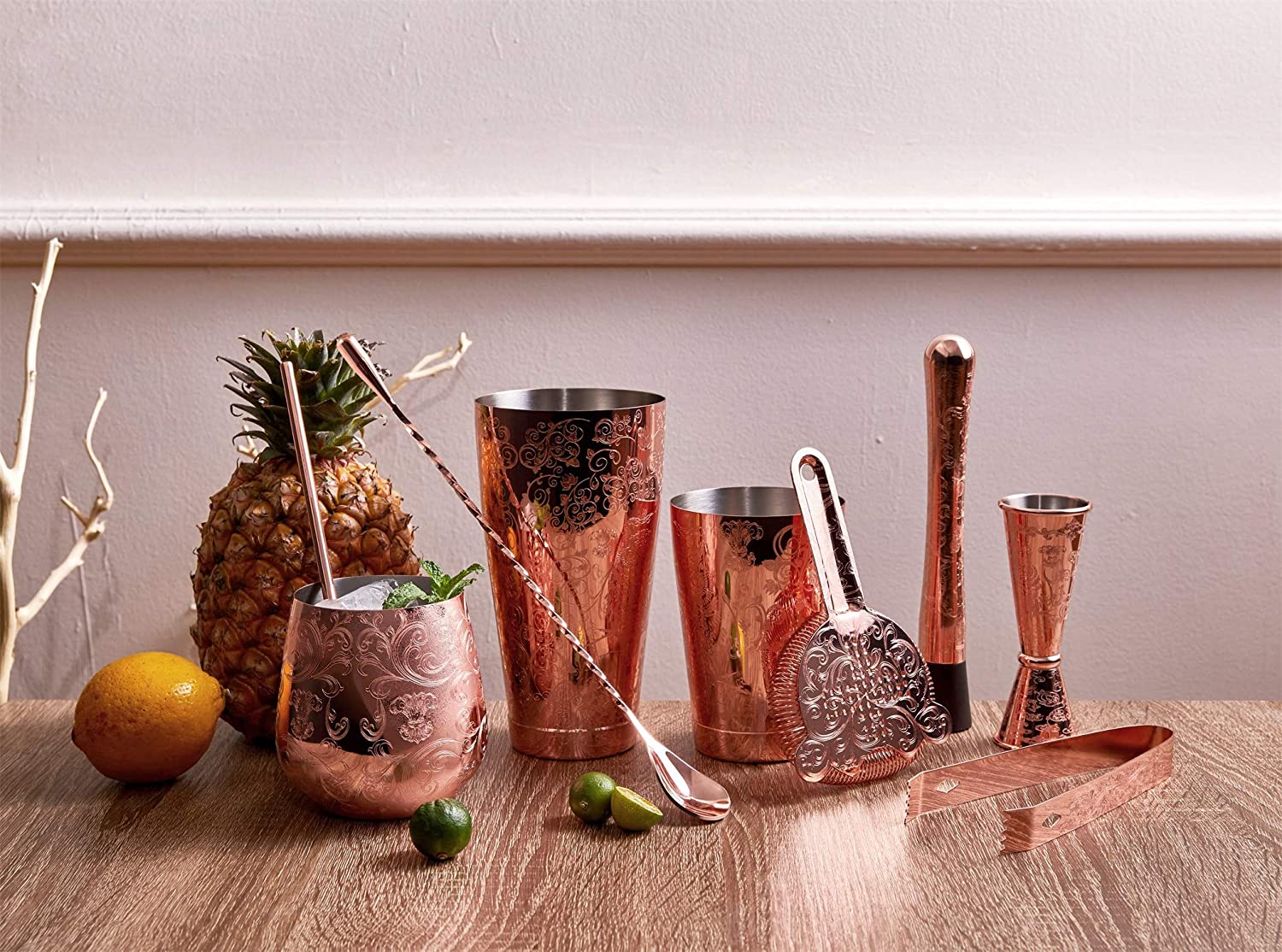 This bar set, with its copper electroplating finishing and etching pattern, will transport you back to medieval Europe and bring out the hero in you. Its appearance and feel are completely top-notch, exuding grace and elegance in all ways. This bar set is definitely a gorgeous addition to your kitchen. This Boston Shaker Set consists of 26oz/16oz shakers; cocktail strainers; Japanese Jigger 1 oz/2oz ; European style Bar Spoon with spiral handle ; Ice Muddler & tongs.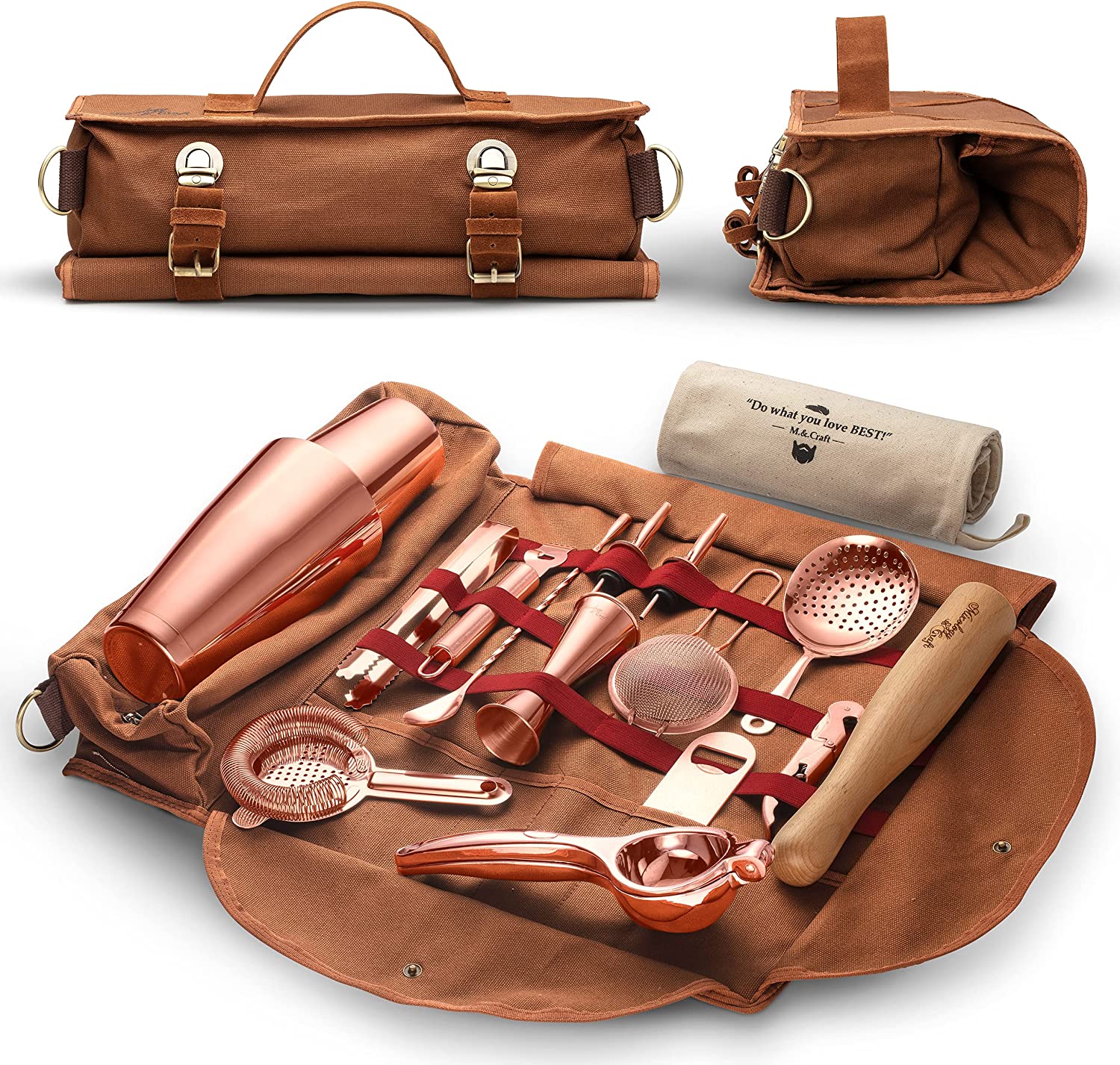 This 17-Piece ALL-INCLUSIVE bartending kit of top shelf bar accessories and a stylish carry-on bartender roll will give you the power to whip up impressive cocktails for your guests. Whether you're an amateur bartender or a drink mixing guru, whether you're setting up a bar at home or at work - This portable cocktail mixer set is a brilliant way to hit the ground running. This hand-crafted rustic-style bartender tote bag, carefully designed with extra inner straps and compartments to keep your Boston shaker and other barware tools organized and accessible at all times, has 27 different pockets and fixed straps, so you can fit any tools combination or even carry your liquor bottle.
Wear your bag with style and comfort, carry it by the handle or with the attached shoulder strap. This first-class mixology kit plus a stylish canvas bar bag, both packed together inside a classy gift box, is the perfect gift for any occasion. Plus, to make things truly delicious, they'll throw in a Lewis ice bag for an icy experience. This heavy-duty and high-grade bar accessories packed in a reinforced canvas bag with sturdy full-grain leather straps and steel buckles travel cocktail shaker set is made of the best materials and have been carefully tested by our top mixologists. Worry not, the bag is laundry compatible, the bar tool are recommended to wash by hand to avoid scratching the surfaces. Treat them well and forget about wear and tear with this bar kit bag.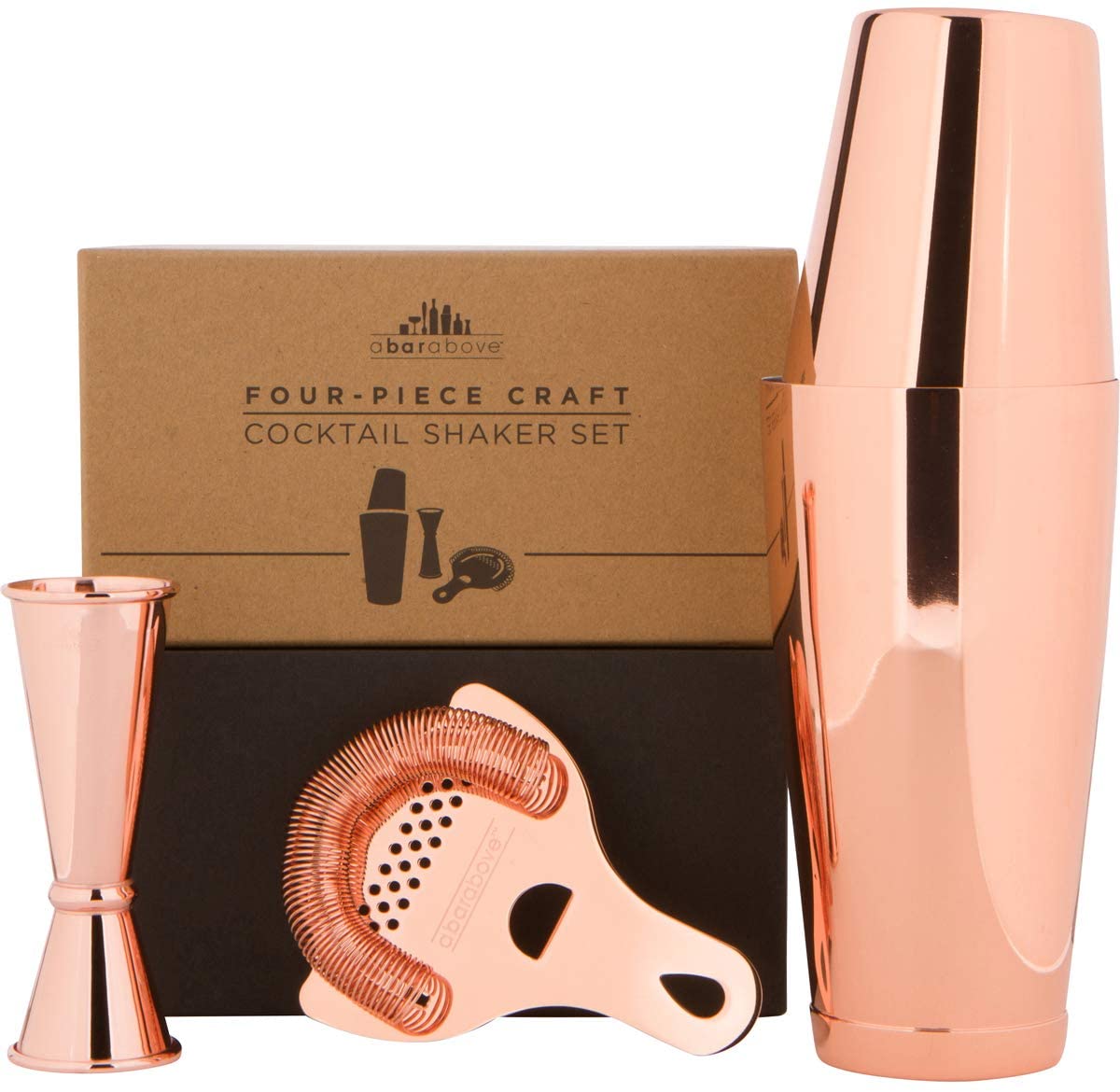 This cocktail shaker set is tough enough for high volume bars and home bars alike. It has been hand-selected and tested by professional bartenders to be the highest quality and best tools available. The Boston shaker is selected and tested to offer the perfect water-tight shake and dripless pour. It won't break like glass or freeze shut like cobbler-style shakers. The Hawthorne strainer is the perfect balance of beauty, ergonomics and performance. It is custom designed by a professional bartender, this strainer is comfortable in the hand, equipped with a high-density spring, and perfectly calibrated to work with the Boston Shaker. The Japanese jigger is durable and comfortable enough for a lifetime of use! It is constructed from professional food-grade Stainless Steel 304 with a beautiful copper mirror finish.